In the heart of the bay of saint-tropez
Holiday Marina Resort *****
Established in 1960, the current owner has been running the site since 1997 and has helped improve its quality every year. The site has moved up in quality to become one of the best in the area.
In Grimaud, borded by the river Giscle and in the heart of the Gulf of Saint-Tropez, Holiday Marina Resort is ideally located halfway between Sainte-Maxime and Saint-Tropez and only 1,2 km from the riverside village of Port-Grimaud and its beaches.
The exceptional location on the Riverside offers moorings for motor boats up to 10m long ; a short leisurely trip down the river takesyou out into the bay of saint-Tropez where you can visit various locations by the sea, avoiding high season traffic. 
We have 5 categories of Mobile homes for rent, 2 categories of luxury tents and 2 different camping emplacements with their own private bathroom, making queuing at a communal bloxk a thing of the past. 
We have a heated swimming pool, a children's club, a bar & restaurant with entertainment as well as a Salon & Spa offering a wide range of treatments. 
Enjoy the Côte d'Azur for our sun-filled holiday; a seaside destination with all the colours of Provence.
Live the 5* camping experience 
by staying at Holiday Marina Resort
Located next to the swimming pool and overlooking the river, the premises of which were completely renovated in eaely 2021, is open 10 months of the year (March to December).
Enjoy the outdoor decking area with musical entertainment late into the summer evenings, live music during the off season, and themed evenings in the mid to high season. The feature fireplace highlights the comfort of the dining room, and creates a warm atmosphere throughout the year.
Choice of set menus (updated every week), children's menu and à la carte.
The open plan bar leads directly onto the outside decking where parents can relax while watching their children take full advantage of the play area.
Open to all, parking available at the Resort entrance.
a moment of relaxation at the
Marina Salon & SPA by Amanda Lesley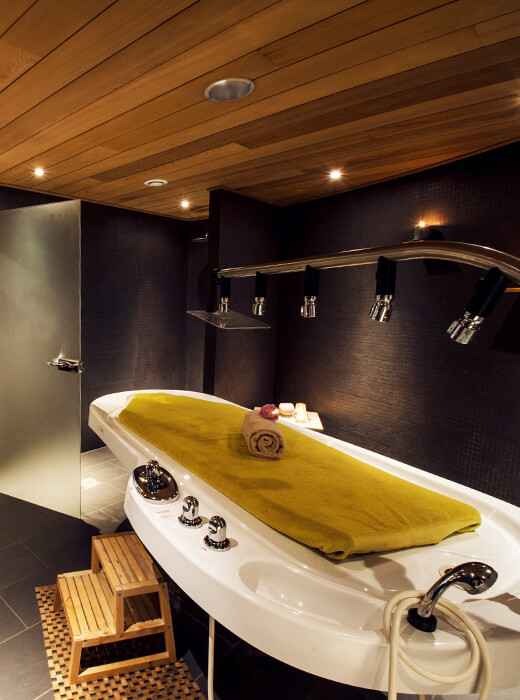 Come and discover the Marina Salon & Spa by Amanda Lesley !
The Resort offers a self-contained wellness area including hairdressing salon, Spa and beauty treatments open to residents and non-residents alike.
A wide range of treatments and services are available for both male and female clients: massage, hammam, hydrojet baths, body treatments, facials, haircuts & colour, waxing, manicure, make-up, tanning
An absolute must-do, for an unforgettable relaxation experience!
and Discover the magic of the Bay of Saint-Tropez with its beautiful sandy beaches, medieval villages, the povencal markets and its legendary cities.  The most beautiful villages of the Côte d'Azur and the Var are accessible by car. You can walk to the canalside village of  Port Grimaud (nicknamed little Venise) and its beautifull beaches or catch a ferry to Saint-Tropez for some celebrity spotting! 
We offer many activities on site : two heated swimming pools (one specifically for babies and small children), a multisports field, children's play area, a kids / teens club (in July and August) and a salon & spa. You can also take advantage of our unique mooring facilities, which allow direct access into the bay of Saint-Tropez. 
You also have the possibility of taking your boat license thanks to boat school onsite : Bateau école Riviera
Numerous activities and excursions are available together with various water sports from the local beaches : water-skiing, sailing, motorboats, electric boats, windsurfing, jet ski, bowling, karting, paintball … 
Thank you to our customers for their  
Schöner Stellplatz für Wohnmobile Sehr gepflegt und saubere Anlage. Nettes Personal, Restaurant ist eher eine Sportbar ;-). Die Lage ist zentral, 10 Minuten Fußweg bis zur Fähre nach Saint-Tropez. Viele gute Restaurants in Port Grimaud.Wir kommen gerne wieder.
Excellent camping Vraiment un camping au top!Venu en Campingcar pour 3 nuits et on a prolongé deux fois...Belle infrastructure, sanitaire privé sur l'emplacement, bien situé, restauration et shop sur place et un acceuil fantastique!
beachbabeMansfield
28/09/2022
Majestic pitch This was our first time in Port Grimaud. We booked a Majestic pitch for 7 nights. The pitch itself was really something special, it was almost like a secret garden, very private and quiet with our own bathroom, sink, fridge and dishwasher and it was extremely spacious, we even paid extra to hire a Lay-z spa hot tub which just added to our experience. We never used the pool or the restaurant ( we didn't need to) so I can't comment on those. Port Grimaud itself is a 10 minute walk away. Why haven't I given 5 stars?…..we just never got that warm welcomed feeling unfortunately, the few staff we did encounter came across as quite uptight and standoffish…apart from the young man who sorted our hot tub out a couple of times.
September motorhomes stay Wow Excellent Excellent Excellent we have never experienced a motorhome site like this. Each pitch has its own bathroom and kitchen including dishwasher.There are Amazing on site facilities beauty/hair salon, bar/restaurant heated pool , children's play area. Easy access to port Grimaud town and beaches.friendly helpful staff fluent English and French spoken. Highly recommended
Not what it used to be We have stayed on this site many times and always had nothing to complain about, this time it was different. The restaurant and bar prices, are higher than in the Port Grimaud itself and not as tasty. The owner Phil, I found rude and arrogant this time and more interested in the ex pats than the people staying on the site. It was not a peaceful break, relaxing by your caravan, reading in the shade, as you had the workmen trimming hedges all day long, even on your pitch when you are there. The site closed to most on the 25th September, so why disturb people the week prior. Not happy.
Amazing Time at this site We had an amazing time at this site with great facilities , clean and all staff very helpful. The Entertainment team at this site were excellent ,got everyone involved and the productions they put on were enjoyed by the whole family. We would definitely visit this site again
Un séjour catastrophique Des dysfonctionnements quotidiens : climatisation, chauffe-eau, jacuzzi sont tombés en panne au fur et à mesure de la semaine. Évidemment, pas d'intervention le soir donc pas d'eau chaude jusqu'au lendemain matin. Quant au jacuzzi, il est tombé en panne tous les jours et a été enlevé au bout de 6 jours (et non une semaine comme indiqué) alors qu'il fonctionnait enfin !Je tenais d'ailleurs à remercier les personnes de l'accueil et celles qui effectuaient les réparations qui ont été à notre écoute toute la semaine.Enfin une mention spéciale pour les soirées réservées uniquement aux consommateurs du bar ou du restaurant (avec en prime une remarque et un ton fort désagréable du serveur).Heureusement que la région est très belle sinon nous serions repartis très rapidement.
Fabulous Entertainment We've been visiting Holiday Marina Camping resort for many years, and have seen a huge improvement in all aspects of this holiday park. The swimming pool area has been expanded to include a large area for sunbeds and for entertainment and exercise. We have also noticed there's been some investment in the entertainment. The stage has been enlarged with better visual and audio equipment, which helps the animation team to produce a more professional show throughout the week. We've enjoyed many of the shows that have been run at the camping which include Mamma Mia, Disney and Grease, which was our favourite. The costumes and creativity have been first class, and they go out of their way to include many of the children and guests in their post-production dancing. A big thank you to all the animation team for putting on such entertaining performances. The holiday park is a very safe and secure place for our children to play however we feel that there could be some improvement on the range of childrens' activities. The restaurant food is very good especially as they offer a good selection of tasty pizzas and various draft beers at the bar. However, because Friday night is the big show entertainment night it has become extremely popular. So much so that we had to book quite a late slot at 8.30pm and was eventually served at 9.30pm. Another small criticism is that the bar has a strict closing policy at 11pm which we find is very early. They could also give a final call just before 11pm to notify guests that the bar is closing. Overall, we have thoroughly enjoyed our stay, knowing that our children are safe and having fun enables my wife & I to relax and unwind in a very comfortable environment.
A great place to stay We stayed in a VIP lodge with 3 bedrooms, the lodge was stunning with a very spacious interior and exterior, hot tub and very close to the pool. The bar and the pool area are very clean and maintained well. We travelled with a severely autistic child and all of the staff were amazing and accommodating making us feel welcomed.In summary great place, great staff and also we met great people there.Will return in 2023.
Un peu déçu du camping Nous avons séjourné 5 jours dans un emplacement avec sanitaire (dommage que vous avez mis un toit en polycarbone) car il fait trop chaud obligé de laisser la porte ouverte autrement c'est étouffant irrespirable sur celui ci et nous sommes un peu déçu car pour un haut de gamme on a vu mieux la haie de séparation pas coupé l'échelle de la piscine qui bougeait et même dangereuse la peinture ou le revêtement à l'intérieur qui s'écaille. les transats avec les coussins à la piscine qu'il faut payer autrement pas le droit d'y aller alors qu'il n'y a pas assez des autres transats(gratuit) et ça s'est une première depuis 15 ans que je fais les campings et pourtant nous faisons que les 4 ou 5 etoiles.Par contre le pain et viennoiserie très bon et pas chers et très bon accueil